We are here for kitchen appliances repair Allen services. From fridges & icemakers to stoves & wall ovens, we send techs to fix any & all appliances. Is there anything wrong today? Is your fridge cooling poorly? Perhaps, the dishwasher is leaking? No worries! With us, all such problems are addressed in no time. Available in Allen, Texas, we provide the best appliance technician in town. Not only are they fast and affordable but also highly qualified. There is simply no gas or electric appliance they can't get back to normal. So, opt for us and have any appliance repair service done in a timely and expert manner!
Any kitchen appliances repair in Allen is best left to us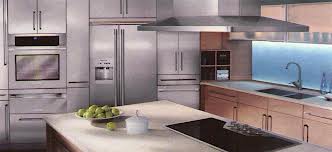 Ever thought what would you do if your kitchen appliances stopped cooling, cooking and cleaning? If not, keep the answer! Should there be any problem, turn to Intown Appliance Repair Allen. We won't leave you struggling with a faulty oven or freezer. Aware of all the stress and anxiety, we send local techs in mere hours. No matter if your home appliance repair request is urgent or not, the specialist will arrive promptly. All pros come out in fully stocked service trucks and thus have all necessary tools and parts at hand. So, let nothing worry you! Just call us and get a fully prepared appliance service technician for the job.
All home appliance repairs are done with no hitch
When assigned to our appliance repair Allen TX company, all jobs are done seamlessly. The techs are trained and experienced. Nevertheless, they keep improving their troubleshooting skills and repair methods. Rest assured, they can handle even the most complex tasks, including but not limited to:
Refrigeration appliance repair
Range, stove & oven diagnostics
Microwave oven troubleshooting
Dishwashing machine repair
And many others
The local appliance technicians can tackle any service
Getting any kitchen appliances service in Allen is a matter of making a phone call to our company. Are you in need of an urgent fridge repair? Want a new wall oven installation? Or maybe, it's time for dishwasher maintenance? Sit back and relax! Whatever appliance service you require, we've got you covered. The techs are competent and can tackle any repair, maintenance or replacement task by the book. So, why hesitate? Just dial our number and get a hassle-free Allen kitchen appliances repair & service the moment you need it!